The Hotel Pont-Royal is an actual hotel located at 5-7 rue de Montalembert, 75007 Paris in Saint-Germain-des-Prés, a locality famous for its art galleries and publishing houses. The hotel still operates today, advertising itself as a "5-star literary hotel", a place where guests can immerse themselves in literary and artistic Paris. The Pont-Royal was "where Americans tasted Parisian intellectual life with relish, starting in the twenties." It had the favourite bar of authors like Hemingway, Miller and Fitzgerald, but also of painters like Miró and Chagall and was a place where "one crossed paths with the Paris of artistic creation."
In Biggles' Combined Operation, Biggles stayed at the Pont-Royal while attending an Interpol Conference in Paris. After Ross, an American policeman, had spoken out strongly against the drug gangs at the conference, Biggles discovered that he and Ross were being followed, and so he invited Ross to his room where they planned their counter-move. Biggles had a room on the second floor (in British parlance that means level 3) with a window overlooking the Rue du Bac. Biggles spotted the man shadowing them, named Georges Macula, mounting guard at a bar-tabac on the street. In fact there is a bar-tabac today on the Rue du Bac facing the Pont-Royal just as Johns described. Perhaps Macula was there?
The Pont-Royal was also featured in an earlier book, Biggles Takes Charge. Charles Zarrill and Yakoff stayed there for a while before being forced to move to the Hotel St James because they had been discovered by political assassins who had been sent after them.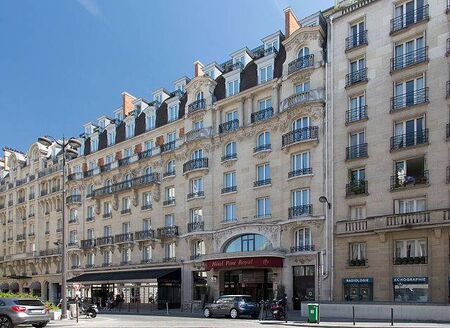 External links
Edit