Biggles in the Terai by W. E. Johns was first published in 1966 by Brockhampton Press. Since then there have been at least 4 subsequent editions. The events in the book take place around the mid-1960s in Northeastern India near the border with Nepal.
"What was Algy doing in a Hunter?" This was the question on everybody's mind when the Air Police learnt that Algy, who was in India helping the authorities there on a gold-smuggling investigation, had gone missing. What was more surprising, Algy was last seen in a borrowed high performance jet fighter. Biggles and Bertie set off for India and their search for Algy takes them to the tract of marshland and jungle on the border between India and Nepal known as the Terai.
Note: The sections below contain spoilers. In particular, the plot subpage (click here) contains an extended summary of the narrative in the book
Characters
Edit
The Special Air Police
Edit
Air Commodore Raymond
Biggles
Algy
Ginger
Bertie Lissie
Dum Dum Airport, Calcutta
Remote jungle airstrip in the Terai
Incongruities
Edit
Bertie told Biggles that Holman Larta was on the "sick list" with his arm in a sling. Biggles thought that might have been because Larta was in the plane at the jungle airstrip which had been driven off by Mahomed Khan's rifle fire. But the aircraft concerned was the unidentified gold smuggling aircraft, not Larta's Dragon Rapide. It is unlikely Larta would have been on board the former.
Other Research Notes
Edit
Chronology. The mention of the Sino-Indian War places the events after 1962.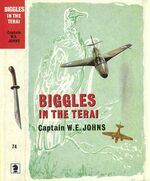 1. Leicester: Brockhampton Press, 1966. 176 pages. Green boards with gilt. Cover illustration by Stead.
Dust jacket largely white, letters in dark red, shows a Hunter shooting down a twin-engine aircraft, with a white vulture in the foreground. Spine has picture of a knife with a horse (knight chesspiece) logo with a number 74.
The first edition is actually quite rare. Even examples without a dustjacket can run up to about US$450.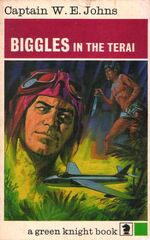 2. Leicester: Knight Books, 1968. 190 pages, paperback.
Cover depicts the scene in Chapter 5 where an assassin tries to kill Biggles and Bertie. at the bottom is a grey-coloured Hunter.
Leicester: Knight Books, 1970. 2nd impression, paperback.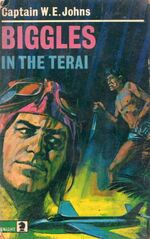 3. Leicester: Knight Books, 1971. 3rd impression, paperback.

4. Leicester: Knight Books, 1975. 4th impression, paperback.

5. Swanage: Norman Wright, 2010. 160pp. Hardback. Black boards with gold titles on spine only. Dustcover and frontis illustration by Andrew Skilleter. Limited hardback edition - 300 copies.[1]
Dust jacket shows a Hunter shooting down a twin-engine aircraft. The Hunter has Indian Air Force markings.
References
Edit